Sewage Backup Cleanup
A sewage problem with your property in Anne Arundel County might not be as catastrophic as a fire or tornado, but it can still be disruptive and hazardous to your health. Sewage backup can cause unsanitary conditions and mold growth, which can negatively impact your building materials.
What Is a Sewage Backup?
If you suspect that your property is at risk of sewage backup, call us at 443-659-4290 for a free visual inspection. Signs of sewage backup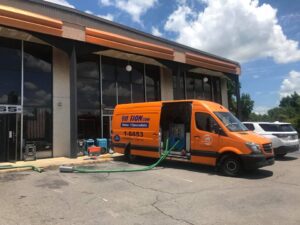 include slow draining sinks, toilets, and bathtubs, as well as water coming up the shower drain and a foul odor.
Common Causes of Sewage Backup in Anne Arundel County
Clogs in your building's drain pipes or main sewer line are common causes of sewage backup. If you have sewage water damage, do not attempt to treat the clog yourself. The sewage water must be removed safely before addressing the cause of the spill.
Trust The Local Biohazard Anne Arundel County Experts 
If you require sewage restoration in Anne Arundel County, call us at 443-659-4290. At 911 Restoration, we handle sewage backup cleanup, mold remediation, water damage restoration, and more for both residential and commercial properties. Our workers are IICRC certified, and we have over 30 years of experience as a national brand.
We are available 24/7/365 and will have a friendly professional at your property within 45 minutes of your call. When you need sewage restoration in Anne Arundel County, contact us.
What Does Sewage Cleanup Restoration Involve?
Sewage backups and flooding can cause property damage and are unsanitary. In the event of a sewage spill, evacuate the building immediately, call the utility companies to turn off your power and water supply, open windows to ventilate the area, and remove undamaged items out of harm's way. Take photos of the sewage backup as proof of damage for your insurance company.
Do not attempt to clean up the sewage backup yourself. Call us at 443-659-4290, and we will safely remove the sewage water, following CDC and EPA protocols. After sewage cleanup, we inspect your property for water damage and repair any leaks. Our professional workers also handle mold remediation, odor removal, and deep cleaning.
Prevent Mold Growth After Sewage Backup Cleanup and Restoration
Mold poses health risks and can damage building materials. At 911 Restoration of Anne Arundel County, we offer mold remediation, deodorization, and drying of your property. We also provide professional sanitization and deep cleaning solutions to stop the spread of bacteria.
When you need full-service sewage restoration in Anne Arundel County, call us at 443-659-4290.
We're More Than a Sewage Cleanup Company
We understand that a sewage backup can be difficult and stressful. We move and store your belongings safely after a sewage backup and mitigate the damage as quickly as possible. 911 Restoration works with all insurance companies and help you file your claim.
Thanks to our same-day service, property damage does not have to disrupt your life or business. When you need solutions after sewage water damage or any kind of emergency, call our IICRC-certified staff at 911 Restoration of Anne Arundel County.
911 Restoration of Anne Arundel County is located at 8331 Pondview Drive, Millersville, MD 21108. Give us a call 24 hours a day at 443-659-4290.
Proudly serving the communities of Annapolis, Brandywine, Edgewater, Fort Washington, Gambrills, and surrounding areas.