Commercial Water Damage Restoration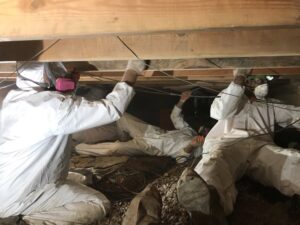 If you're a homeowner or business owner in Anne Arundel, 911 Restoration is here to provide you with a Fresh Start! We maintain open communication with you during the entire restoration process, assist with insurance-related inquiries, and work to bring your property back to its original state before any damage occurred.
At 911 Restoration of Anne Arundel County, we offer a Fresh Start with our comprehensive selection of property damage restoration services, including but not limited to:
Water Damage Restoration

Sewer Backup Cleanup

Mold Removal

Fire and Smoke Damage Restoration

Disaster Restoration

Sanitization Services

Commercial Property Restoration

Crime Scene Cleanup
Our IICRC-certified teams are quick to respond, arriving within 45 minutes of your call. Get in touch with us today, and our helpful representatives will guide you to the closest location for assistance.
Quality Commercial Water Damage Restoration Services in Anne Arundel County
In the event of a nighttime flood caused by a burst pipe on your property, reach out to 911 Restoration Anne Arundel County's commercial property water damage unit. They will promptly arrive at your location within 45 minutes to initiate restoration efforts.
Our office operates 24/7/365 to ensure availability, including holidays. This allows our certified water damage experts in Anne Arundel County to provide assistance during even the most inconvenient times.
Our commercial water damage pros in Anne Arundel County,  never want to keep you waiting during a flood. We offer same-day services for all water-related problems, such as:
Commercial water damage emergencies

Property flooding

Roof and Ceiling Leaks

Water Heater Leaks

Toilet Overflow 

Sewage Backup

Ruptured hoses

Pipe Burst

Black Water

Washing Machine Leak

Leaky Shower Pans
To accurately assess the required actions for your property, 911 Restoration of Anne Arundel County's water damage restoration specialists perform complimentary property inspections upon arrival at the site. 
We prioritize keeping you informed throughout the entire process. Contact our licensed, bonded, and insured commercial water damage professionals in Anne Arundel County today!
Mold Removal is also Our Specialty
Many individuals are not aware that commercial water damage in Anne Arundel County often goes hand in hand with mold growth. Inhaling mold spores can lead to allergy-like symptoms and potential respiratory issues, as our commercial property damage experts in Anne Arundel County understand.
To address this, our specialists conduct swift and thorough free visual mold inspections, enabling them to eliminate all traces of fungi from the property. This is crucial for maintaining the health of both the building and its occupants.
Additionally, our water cleanup professionals in Anne Arundel County tackle water damage within the structure, helping to prevent not only further damage to the building but also future mold infestations. If you discover damp areas on your property that could be fostering mold growth, contact our commercial property damage technicians in Anne Arundel County right away so we can initiate removal procedures without delay.
Customer Service and Quality Communications is Apart of the Process
The water damage professionals at 911 Restoration of Anne Arundel County are committed to delivering exceptional commercial property damage repair and restoration services for your property.
Our IICRC-certified and licensed technicians in Anne Arundel County work meticulously to prevent future mold infestations by effectively eliminating all excess moisture. In addition to providing comprehensive water disaster cleanup, our commercial water damage experts ensure round-the-clock customer service.
With years of experience in the industry, we have developed a deep understanding of our customers' needs, enabling our commercial property damage technicians in Anne Arundel County to be fully attuned to your requirements. Your emotional well-being is of utmost importance to us, and our Anne Arundel County commercial property damage specialists will always prioritize your needs, regardless of other concerns related to your property.
Contact our commercial property damage professionals at 911 Restoration of Anne Arundel County today, and experience our unwavering dedication to helping you get your life back on track. Embrace the Fresh Start you deserve!
 911 Restoration of Anne Arundel County is located at 8331 Pondview Drive, Millersville, MD, 21108. Give us a call 24 hours a day at 443-659-4290.
Click here to close